Camping and Cabin Rentals in First Landing State Park
There are more than 200 campsites in First Landing State Park. The camping areas is located just off of the Chesapeake Bay, nestled within the back dunes of the beach. The camping sites are quite variable in their location and their size. Some are located right next to one another and/or are quite close to the highway that divides the park. Other campsites may offer a bit more space between sites, are closer to the beach, or are not as close to the state road. The 20 cabins are located on the opposite side of Shore Drive from the campground. To find out more details about camping and the cabins in First Landing State Park you can scroll down the page to look over all the camping information or you can jump to the topic you are interested in by clicking on any of the headings listed below.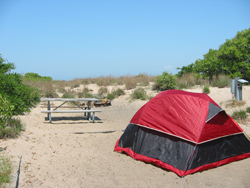 Camping and Cabin Fees
Campsites are priced from $24 to $32. Taxes and reservation fees also apply.
Sites vary from those having no per-site water or electric to those that are able to accomodate 50' RVs.
Individual sites within the group campsite area are $24 a night, with a minimum of 3 and a maximum of 20 sites available for reservation.


Cabins range in price from $94 to $139 per night, depending on the season and your state residency. A one week minimum stay is required during the prime summer season and a two night minimum stay at all other times. Taxes and reservation fees also apply.
Return to the top of the page.

Seasonal availability
Campsites are available from March 1 through early December. Cabins can be rented year round with a few exceptions that exclude holiday check-in dates during some non-summer holidays (for example your first day in a cabin cannot be on Thanksgiving).
Return to the top of the page.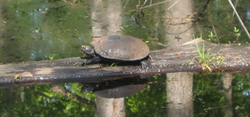 Camping and Cabin Reservations
Online - ReserveAmerica. You will need to create a sign on account to complete your reservation.
Telephone Virginia Parks reservation center (daytime on weekdays) toll-free 1-800-933-7275
Weekend reservations can be made through Thursday for the upcoming weekend.
Reservations are made for a particular type of campsite. Assignment of your actual site is done by the park staff when you arrive at the park.
If you go the reservation site and wonder what a "$3 bed " reservation is all about - this is a cot rental for folks staying in the cabins. There are no $3 campsites!
Return to the top of the page.
First Landing Camping and Cabin facilities
There is a camp store, in the same building complex as the main office, that sells a variety of camping supplies, firewood, and basic food items. They also rent bicycles.
Next to the camp store is a small laundry facility. It has a few coin operated washers and dryers.
Camping
Each campsite has a picnic table and fire-ring/grill.
Primitive campsites ("standard) do not have water or electricity at the campsite. Regular sites ("E/W") do have water and electric hookups.
There are campsites that can accommodate camping equipment up to 20', to 30', and large RV's up to 50'. The latter need to be reserved by phone and cannot be booked online.
A group campsite is available. There are 20 campsites, in close proximity to one another, and a group shelter. The campsites are considered primitive as water and electric are not available on a per-site basis. A minimum of 3 sites must be reserved to use the group camping site.
There are numerous bathhouse/bathroom facilities scattered around the campground. Each facility has hot showers, bathrooms, and dish-washing sinks.

Pets

are welcome to stay with you in the campground but there is an additional $5 charge, per-pet, per-night.
Cabins
All cabins have AC and heat, a fireplace, a deck, a screened porch, and an outside grill.
There are two bedrooms; one has either a double or queen sized bed and the other has two single beds. You can have up to six people stay in a cabin. Sleeping cots can be reserved ($3 per night) to accommodate two more people.
In addition to living room furniture there is a dining table with with four chairs.
The kitchen comes equipped with a refrigerator, stove, coffeemaker, dishes, dishcloth, dish towels, silverware, cooking utensils, pots and pans, microwave oven, and a toaster. Don't forget to bring things like dish detergent, salt and pepper, and coffee filters.
There are linens for four people. You may want to bring extra towels if you are staying awhile or have more than 4 people staying in a cabin. You should also bring soap and shampoo.
There is no dishwasher, telephone, TV or washer/dryer.

Pets

are welcome but there is an additional $10 charge, per-pet, per-night.
Return to the top of the page.
A few park rules:
There is a limit of two cars per campsite
Quiet hours are from 10 PM - 8 AM.
You cannot collect wood from park grounds.
Parking passes are required on all vehicles in the park and must be displayed at all times.