Other things to do in First Landing State Park
Once you get tired of playing on the beach and hanging around at your campsite, what else is there to do at First Landing State Park?
Here you will discover some of the other things you can enjoy during your visit to the park. These activities are not listed in any particular order nor is it an exhaustive list.
Talks and Walks
During the busier times of the year the park regularly schedules events that any park visitor can either listen to or take part in. These include nighttime walks, talks about wildlife and human history in the local area, and Wednesday night movies in the amphitheater. You can find a list of these events at the Virginia State Park's website.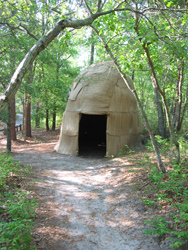 Indian community life displays along the Cape Henry Trail
There are a number of replica's of Native American community structures along a one mile stretch of the Cape Henry Trail. This section is found between the picnic area and the Trail Center. You can obtain a pamphlet at the park that provides details about how the Virginia's original inhabitants once lived. There is also information about the currently recognized Virginia Native American tribes, their Chiefs, and each Tribes' official website address.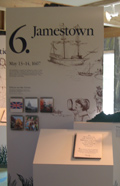 The Chesapeake Bay Center
The center has two different kinds of interesting displays. One is about the history of the First Landing. It describes the cultures of the people that found themselves sharing the Virginia coast. By describing the local environment, it also conveys what it may have been like to find yourself in First Landing State Park at the time Europeans first arrived at Cape Henry.
The second display provides information about local marine life, including some hands on demonstrations that are designed for children.
Take your children to the playground
There is a playground in the picnic area (at the entrance into the park that is opposite the main entrance along Shore Drive).
Do Nothing!
Just kick back and just relax.