First Landing State Park picnic facilities
The park has a single picnic area. It is located off of the secondary Shore Drive park entrance, which is at the traffic light on Shore Drive and just opposite to the main park entrance. You will find barbeque grills, drinking water, a playground, and of course picnic tables in the picnic area. There is also a restroom facility, which is open from to April through October, and a large parking area. The picnic area is adjacent to a number of hiking trails and the park's only bicycle trail. First Landing's Chesapeake Bay beach is not readily accessed from this location as the beach is on the other side of Shore Drive.
The Group Picnic Pavilion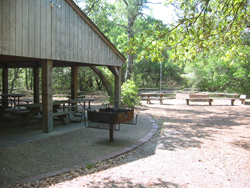 There is a large picnic shelter available for groups to rent on a first-come, first-served basis. You can call the Virginia State Park reservation center at 1-800-933-7275 to reserve this facility.
The group picnic shelter includes charcoal grills, electricity, and picnic tables. It can accommodate 80 people. The group picnic area is a part of the main picnic area, which means that other park visitors may use the facilities that are not associated with the shelter itself (the playground, single picnic tables with grilles, and the bathroom facility). Each vehicle in the picnic area parking lot is required to pay the park entry fee and display a parking tag. The group picnic reservation fee does not include entry fees.